Ukraine war: Chinese aid to Russia a key topic as Joe Biden arrives in Europe to meet allies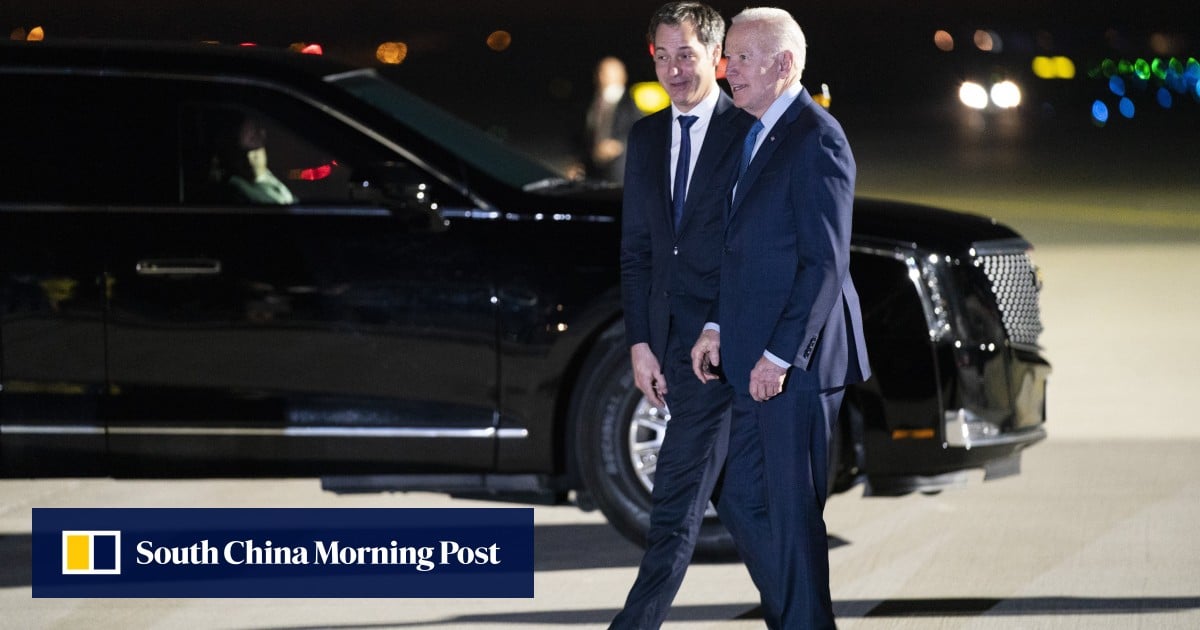 A senior diplomat, speaking on condition of anonymity, said the EU wanted to send a clear message to Beijing that supporting Vladimir Putin was unacceptable. The EU is ready to take a huge economic hit by sanctioning Russia, the diplomat said, a fact that should resonate in the halls of Zhongnanhai.
"We have long sought a resilient EU, and now we are a big player, thanks to Putin. Putin helped us find our place, and China must recognize now that it did not expect us to be so united. For them, the reality has changed," the diplomat said.
A second senior diplomat said there would be "consequences for our relations if China does not join the emerging consensus of the global community".
In NATO, meanwhile, there will be a debate over Beijing's refusal to condemn Russia, with the alliance's leaders seeing it as tacit support for Putin.
"What we have seen is that China has not been able to condemn the invasion," NATO Secretary General Jens Stoltenberg said on Wednesday. "We also find that the Chinese state authorities have [repeated] some of the same lies about Ukraine and about NATO, and in this way provided political support to Russia.
Stoltenberg said the leaders would press for China to condemn Russia, fearing that Beijing's joint statement with Moscow on February 4, when the nations declared a "limitless" partnership, signaled a new threat to European security.
"China has questioned for the first time some of the key principles of our security, including the right for each national unit to choose its own path," Stoltenberg said. "China is joining Russia in trying to deprive European nations of the freedom to choose their own path."
On the surface, however, the EU continues to prioritize maintaining close communication with Beijing, in the hope that it can exert some influence on Russia and help end the war.
Speaking in the European Parliament on Tuesday, the bloc's trade chief Valdis Dombrovskis said he did not want to see "new polarization" or push China and Russia into "a new alliance".
At a meeting of the bloc's foreign ministers on Monday, a number of member states spoke out in favor of continuing diplomatic contacts, according to a person familiar with the talks.
But suspicions that Beijing is helping Moscow abound and there is debate across Europe over how best to calibrate a response.
At a private meeting of national leaders and lawmakers affiliated with the center-right European People's Party – the largest group in the European Parliament – in Brussels on Wednesday, a senior official said that if China were to offer such support, it would "will automatically make you an enemy," sources familiar with the talks said.
"Everywhere in Europe, it's very similar in what you hear: it's already a game-changer. And then the question of arms deliveries would be a game-changer," said Janka Oertel, director of the Asia program at the European Council on Foreign Relations.
Differences between member states are "more a matter of style and tone than substance", Oertel said.
That was reflected in an exchange at a meeting of EU ambassadors on Friday, in which Germany urged caution over the tone in which the bloc engages China lest it do so. closer to Russia. The German envoys, however, insisted that Beijing must be aware that we are at "a decisive moment" in EU-China relations for decades to come.
"I think one of the biggest lessons to be learned from the war in Ukraine is how quickly Europe moved to sanction Russia and support Ukraine in concert with the United States." , said Scott Kennedy, China specialist at the Center for Strategic and International Studies, a think tank in Washington.
"It has revitalized transatlantic relations on many fronts."
Additional reporting by Robert Delaney and Joshua Cartwright in Washington