MTStreets Delivers New Sound While Addressing Broken Relationships On New Single "Highway To Hell"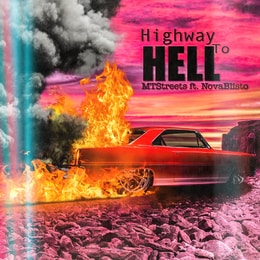 Following their debut and follow-up albums released in 2020 and 2021, MTStreets has since polished their music and worked with producers to craft a string of singles including "Highway To Hell" ft. NovaBlisto. The track touches on several themes, including broken relationships and the need for help in general, making it very approachable and one of his most dynamic tracks to date. The release date is Valentine's Day 2022.
Mark Thomas Rhodes, aka MTStreets, began his musical career at age 18, with the piano being his main instrument. He has received critical acclaim with his introspective music that encompasses a range of genres from pop, hip hop and R&B. Using introspective lyrics atop a wall of complex sound, her official debut album was 2020's "Open Thoughts," which received critical acclaim and saw her collaborate with up-and-coming artist Beanie.
After moving to Miami, Florida from Hollywood, California, MTStreets continued to create their music and were invited to Denver by Sony Music to attend an event with budding musicians from around the world. This led to a collaboration with Dua Lipa and offered a new direction to her music, which is mostly about loss and the idea that everyone needs a helping hand from time to time. The new direction has inspired him to work on numerous tracks, including the insightful "Highway To Hell", all to be released in early 2022 and in preparation for live performances in Miami towards the end of 2022 and a European tour in 2023.
Ultimately, MTStreets uses his personal experiences of grief and loss to connect with listeners and create a therapeutic environment, providing listeners with a sense of inclusion that highlights some of the personal struggles the artist himself has lived. Beneficial to both the creator and the listener, each track, including "Highway To Hell", shines a light on a specific part of his life. Additionally, his lyrics tackle topics in such a way that listeners can gain a sense of calm and the idea that we are never alone.
Half of the song was recorded in a Miami studio following a process that starts out as a collection of thoughts based on the pain felt that then evolves into a collaborative effort during production. NovaBlisto, one of LA's most up-and-coming artists, recorded the other half of the song there. The result is a meaningful track that connects with listeners on a personal level both musically and lyrically. Recorded half in Miami and half in Hollywood, "Highway To Hell" has a diverse feel and will precede MTStreets' third album, which will be released sometime in the summer of 2022. In the meantime, listeners can check out "Open Thoughts" and "#Cold4Life", MTStreets' first two seminal albums on all music platforms, especially Apple Music.
The single "Highway To Hell" represents the work of an artist who has faced many emotional situations and has a unique way of delivering the right message of hope and understanding to his listeners. Written during one of the most painful times of his life, "Highway To Hell" deals with grief, addiction, and other topics that many people struggle with during their young adult lives. The song could be seen as a backdrop for the stronger person we hope to become.
For more on his unique background and to better understand his complex thinking mind, check out MTStreets on Instagram or the MTStreets official website.
Media Contact
Company Name: 3000 records
Contact: Terrance Schemansky
E-mail: Send an email
Call: (586) 480-3000
Country: United States
Website: mtstreets.com