Flint's first author tackles the topic of health care with comedy and empathy in new book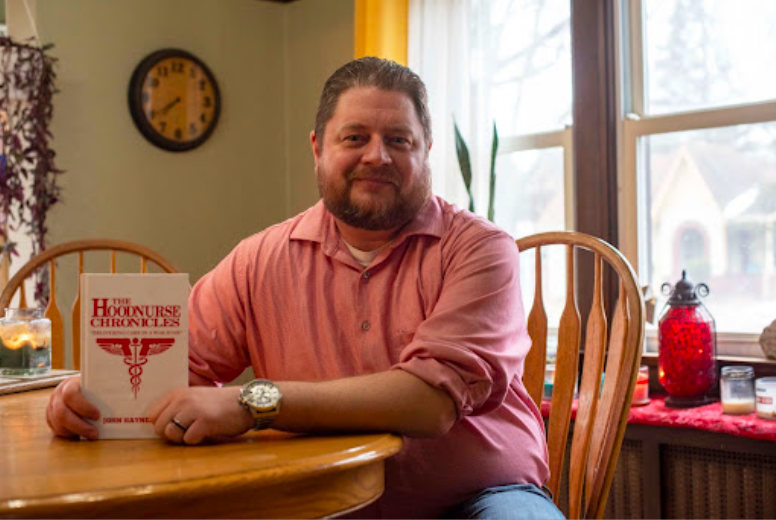 FLINT, Michigan — A new book by a Flint local has been making its rounds around town and on the internet, quickly earning a reputation for taking an empathetic and often comedic approach to the topics of home nursing, poverty and the more than once, public defecation. With an off-putting title that begins to make sense on reading, The Hoodnurse Chronicles: Providing Care in a Warzone is a compelling and entertaining read.
Based on the experiences of John Haynes, the book's author, The Hoodnurse Chronicles introduces the reader to a series of vignettes detailing what it's like to provide health care to some of the city's poorest and most run-down households.
Narrated by Haynes, who quickly finds the silver lining in any situation, the stories inside Hoodnurse manage to explore the spectrum of human emotions. From disbelief and depression to contentment and elation, his stories come together to form a narrative that, while funny and touching, conveys the harsh realities that many of his patients face on a daily basis.
For Haynes, however, it's that silver lining — the one element of good in a bad situation he wants readers to focus on.
"I just want people to have a little fun. There's no shortage of things that can be annoying or disappointing. If you can escape your worldly problems and laugh, maybe get into environments you wouldn't have known to exist otherwise, I think that's great," Haynes said.
Although part of his goal in writing the book was to entertain and educate readers, he also stated that a large part of him viewed the book as a form of self-therapy.

Haynes worked on "The Hoodnurse Chronicles" while recovering from a harmful case of COVID-19 in 2021.
In 2021, Haynes caught a particularly harmful case of COVID-19 which left him hospitalized for a week and mostly housebound for the next few months. It was around this time that, after years of journaling his experiences and being encouraged by friends to put them to paper, Haynes finally decided to start work on a book.
In some ways, he struggles with his health, and ultimately the struggle and desire to stay alive comes through in his writings. The parts of the book where he describes tense or gloomy situations like potential aggression or a man on the verge of suicide are imbued with an essence of optimism that can only be written by someone who has learned the hard way to what life can be precious.
"Launching this (book) together was as much a mental health exercise for me, personally, to deal with my loss of functionality and things like that," Haynes said. "I'm on fire just to be alive, part of that is what I think comes out too, just my gratitude for being alive."
In one story, the author visits an elderly woman who is slowly losing her mobility. Her son who lives with her neglects many of her health care needs.
Haynes writes; "Between the lingering body odors, outhouse smells, and constant weed smells, the smells of this place were smack banging in your face before you even got to the doorstep more often than not, but she was such a sweet lady that you couldn't help but support for her.
At a time when every aspect of life seems mired in controversy and tragedy, it seems many readers were looking for a book that would reintroduce laughter and levity into their lives.
Since publication Hoodnurse In late January 2022, Haynes, a first-time author, sold physical copies in 13 countries and his book broke the top 15 best-selling books in several Kindle Store categories, including Two-Hour Humor & Entertainment Short Reads as well as a nursing home and community care.
"The Hoodnurse Chronicles: Delivering care into a war zone" is available at Amazon in hardcover form and via Kindle as a digital download.