Book's Catholic Perspective on the Subject of Mental Health – Catholic Philly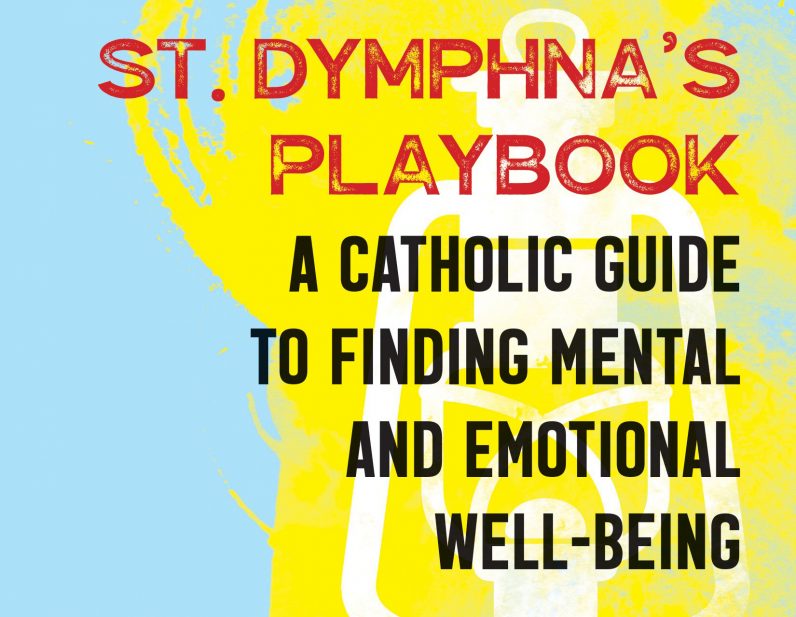 By Nancy L. Roberts • Catholic News Service • Published February 18, 2022
"St. Dymphna's Playbook: A Catholic Guide to Finding Mental and Emotional Well-Being" by Tommy Tighe. Ave Maria Press (Notre Dame, Indiana, 2021). 205 pages, $17.95.
Depression, anxiety, trauma, and grief are tough mental health challenges today. In the sea of ​​practical advice for dealing with it, "St. Dymphna's Playbook" offers a uniquely Catholic perspective.
Tommy Tighe, a licensed marriage and family therapist, combines his extensive clinical experience with insights from scripture and saints to give readers practical tools for coping.
Based on Tighe's podcast of the same name, each chapter of the book gives an accessible explanation of a specific mental health issue. These include loneliness, irritability, despair, and relationships.
Tighe then clearly outlines characteristic symptoms and engages Catholic spiritual practice to offer suggestions for treating each condition. Each chapter highlights a Catholic saint or holy person who faced the same problem, followed by a closing prayer.
"Am I anxious or just worried?" So begins the chapter on anxiety.
Here, Tighe explains that "as with any other mental health issue, we need to seek help if the symptoms we are experiencing prevent us from carrying out our daily activities or responsibilities, cause problems in our relationships or at work. . , or make it difficult to engage in other areas of our lives.
Be careful, he advises, "if you experience anxiety even when there is no specific threat or if your anxiety is out of proportion to the threat that is occurring."
The frequent mention of anxiety in Scripture suggests that Christ and the early church understood how much it affects us. And, adds Tighe, "how much Christ wants to give us peace in the midst of our struggles."
He offers St. Padre Pio as an example of one who struggled with anxiety but found relief through his repeated mantra, "Pray, hope, and don't worry."
Many will probably recognize themselves in the chapter on irritability. After all, it is one of the most common mental health issues.
But "persistent irritability is a common sign of depression," advises Tighe, and the sufferer may benefit from therapy and medication. There is also comfort in what Ecclesiastes 7:8-10 says about irritability (which Tighe quotes):
" Better is the end of a thing than its beginning ; better is a patient spirit than a lofty spirit. Do not let anger cloud your mind, for anger dwells in the bosom of a fool. Do not say: How come old times were better than these? For it is not out of wisdom that you ask about this.
He also mentions several related saints who lived with irritability, such as Saint Jerome, "who was known to carry a stone with which he struck himself whenever he lost his temper".
Another is Saint Vincent de Paul, who has been described as "'by nature of a bilious temper and very prone to anger'".
Tighe also recounts what James Forest, a Catholic Worker editor, said about Dorothy Day: "She's not all sugar. You see, she's tough, she's stubborn, she doesn't listen well all the time, she holds grudges and, like other Catholic radicals, she has the problem of sometimes being too judgmental.
Yet Forest also considered her "a genius and a saint".
As it should be, the closing prayer of this chapter is that of Saint Teresa of Ávila: "Let nothing trouble you. … Anything goes. God does not change. Patience accomplishes everything.
Aptly titled after Saint Dymphna, the patron saint of people with mental health problems, the book fulfills its author's hope that it might "remind us that we are not alone", that we are part "of a Catholic community where we all suffer together". , without fear of moving forward with our sisters and brothers in their valley of tears.
Engagingly written, "St. Dymphna's Playbook" also includes a brief appendix of mental health resources. The book will catch the attention of anyone looking for a Catholic spiritual perspective on these common mental health issues.
***
Roberts is a journalism professor at the State University of New York at Albany and author/co-editor of two books on Dorothy Day and The Catholic Worker.