Abortion is a hot topic in the race for governors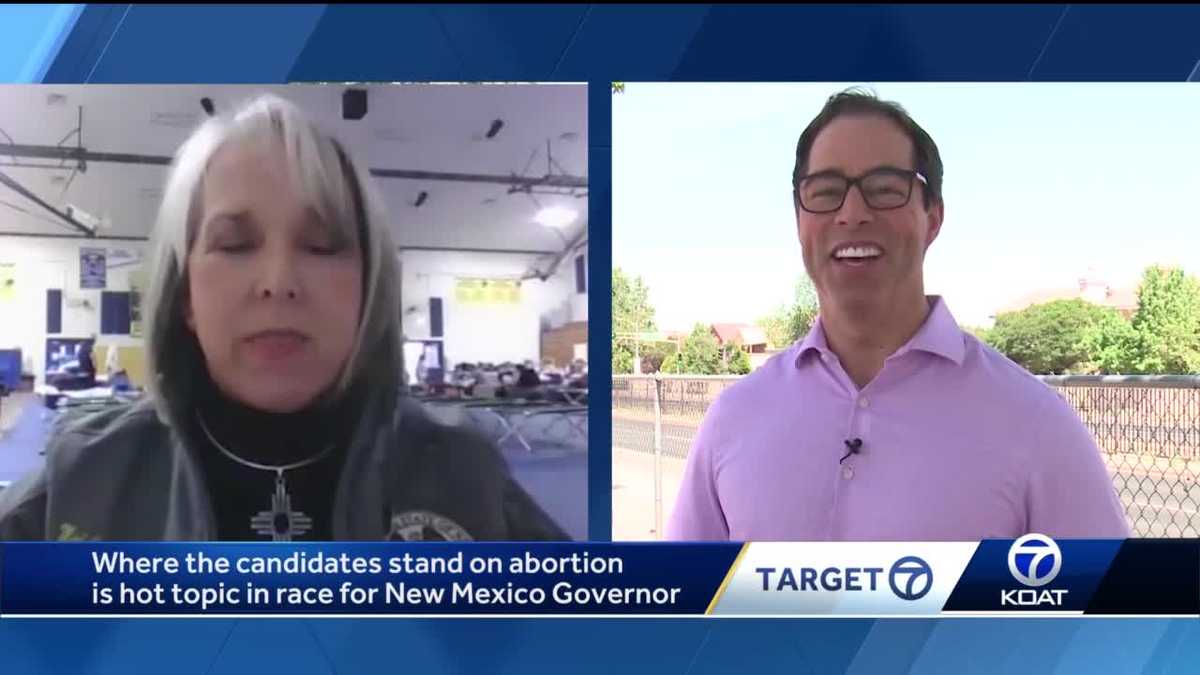 The candidates' stance on abortion is already a hot topic in New Mexico's gubernatorial race. There have been campaign ads on the subject, and some are hearing about it from the pulpit. Here in New Mexico, just a year ago, the legislature struck down a 52-year-old law banning abortion – Governor Michelle Lujan Grisham signed the repeal So what is the position of Republican Mark Ronchetti and of Democrat Lujan Grisham on abortion? right to control his own body at all stages." In response, Ronchetti took out his own ad showing him sitting on a couch, saying, "I believe we can all agree on a policy that reflects our shared values . We can end abortion late to term while still protecting access to contraception and health care." Church passed or said during a sermon two weeks ago. "He said, 'Listen , I just want to start getting rid of partial birth abortion statewide, which we should be happy with.' And he said, "But I can't just come in and do everything 100% because we'll never get elected." He said, "I just want to start," but his goal would be to end abortion in New Mexico is "exactly what he told everyone in this race. He wants to end late-term abortion in New Mexico by limiting abortion to the first 15 weeks. His position has been clear and consistent." Smotherman sent the statement, saying, "Mark has been clear with me that he is personally pro-life and what he intends to do as a governor, which is identical to what he says in his campaign ad. My comments were not intended to convey his strategy as governor. I believe Mark is committed to ending the terrible practice of late-term abortion in our state, a practice that the current governor sadly embraces. governor's debate. "I am staunchly pro-life, and we will protect life. There is no doubt that to see where we are in this state is staggering. We are the late abortion capital of North America," Ronchetti said. "And it has to end here… We have to protect life. There's no doubt about that here. So what we want to do is work with everyone we can to say, ' Let's bring things into line with the morality of the State of New Mexico." "So what is Lujan Grisham's position on the matter? Ronchetti made this claim in his TV commercial: "Governor Supports Abortion Until Birth. That's extreme." Lujan Grisham didn't dispute that. She was asked about her stance by CNN's Jake Tapper shortly after the Roe v. Wade decision was announced. "In these late-term abortion issues, these are women who have chosen a name, have enrolled in a nursery, who have a nursery," she said. "The kind of deeply private medical issues and personal traumas that occur in these aspects…I don't think the government has the right to interfere and judge these decisions when two medical providers provide this information directly to their patient ."
ALBUQUERQUE, New Mexico —
The candidates' stance on abortion is already a hot topic in New Mexico's gubernatorial race. There have been campaign ads on the subject, and some are hearing about it from the pulpit.
Here in New Mexico, just a year ago, the legislature struck down a 52-year-old law banning abortion — Governor Michelle Lujan Grisham signed the repeal.
So where do Republican Mark Ronchetti and Democrat Lujan Grisham stand on abortion?
A TV ad funded by Stronger New Mexico Now, a Democratic-funded political action committee, claims: "Mark, Ronchetti wants to be our governor, but he opposes a woman's right to control her own body at all times. Steps."
In response, Ronchetti took out his own ad showing him sitting on a couch saying, "I believe we can all agree on a policy that reflects our shared values. We can end late-term abortion while protecting access to contraception and health care. "
What Ronchetti says about late-term abortion was called into question when well-known Albuquerque pastor Steve Smothermon said this in a sermon: "I had a long talk with them for hours," the Legacy Church pastor said during a sermon two weeks ago. He said, "Look, I just want to start getting rid of partial birth abortion statewide, which we should be happy with. And he said, 'But I can't just come in and do everything 100% because we'll never be elected.' He said, "I just want to get started," but his goal would be to end abortion in New Mexico."
Target 7 asked Ronchetti's camp if what Smotherman said was true. His campaign sent us this statement saying that what Ronchetti told the Legacy Church pastor is "exactly what he's told everyone in this race. He wants to end late-term abortion in New Mexico by limiting abortion to the first 15 weeks His position has been clear and consistent.
Smotherman sent this statement saying, "Mark has been clear with me that he is personally pro-life and what he intends to do as governor, which is identical to what he says in his campaign ad. My comments were not intended to convey his strategy as governor. I believe that Mark is committed to ending the terrible practice of late-term abortion in our state, a practice that the current governor embraces Sadly.
Prior to the Republican primary, KKOB's Bob Clark asked all of the candidates what their position was on abortion during the KOAT gubernatorial debate.
"I am staunchly pro-life and we will protect life. There is no doubt that to see where we are in this state is astounding. We are the late abortion capital of North America," Ronchetti said. must stop here… We must protect life. There is no doubt about it here. So what we want to do is work with everyone we can to say, 'Let's bring it into line with the morality of the state of New Mexico is.'"
So, what is Lujan Grisham's position on the matter?
Ronchetti made this claim in his TV commercial: "The governor supports abortion until birth. That's extreme."
Lujan Grisham did not dispute this. She was asked about her stance by CNN's Jake Tapper shortly after the Roe v Wade decision was announced.
"In these late-term abortion issues, it's women who have chosen a name, signed up for child care, who have a crèche," she said. "The kind of deeply private medical issues and personal traumas that occur in these aspects…I don't believe the government has the right to step in and judge these decisions when two medical providers provide this information directly to their patient ."